10 THINGS TO DO IN MUSCAT
If you are looking for a mystical and pristine destination to enjoy your holiday, then Oman will be the ideal place. Lock between Saudi Arabia, Yemen and the Indian Ocean, beautiful country is mostly famed for its picturesque Muscat and its mountains and entirely arid desert landscapes facing the bright emerald seas and glows of traditional charm. Oman is a favorite destination especially for divers looking for pristine waters, sunny weather and an unadulterated Arabian experience. The desert country is completely opposite of Dubai, which is a modern styled city and a busy business hub on the other side of the border. There are many things to do in Muscat and you can maximize on your visit by opting for Muscat car rentals if you don't have a personal car.
Tops things to do in Muscat
Sample the Nightlife
There are various hot spots in the city including the new "Zouk" situated at the Crowne Plaza. This bar attracts a cosmopolitan crowd plus it has a beautiful décor that creates an amazing atmosphere for the revelers. You will find smokers congregating outside while girls will enter without their abayas. Porches are parked outside as the wealthiest in the land seek to impress the ladies coming to enjoy a night away from home.
Sightseeing
You cannot visit Muscat and fail to see the Jalali and Mirani Forts, built by the Portuguese in the 16th century. The Sultan's Al Alam Palace is also a great attraction which you should visit. Built in 1972, the palace bears gold leaf and turquoise mosaic and its impressive black gates are adorned with Sultan's coat of arms that consists of an ancient Omani dagger.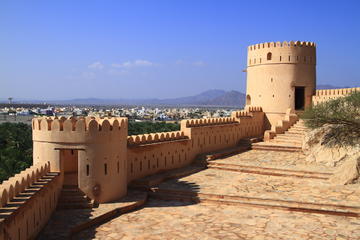 Visit the Souq
Pick up one or two souvenirs from the Muttrah Souq, which is a web of tiny meandering streets awash with black abayas and white robes. The air is covered with exotic aromas. The prices here are great and the experience more authentic. You will enjoy the fun as you haggle and interact with friendly, smiling shopkeepers from one end to the other. Some of the things you will find include silver charms, saffron, aromatic frankincense and kohl make-ups.
Visit Qantab beach
A few miles from Shangri La is the free Qantab beach. The beach is normally busy of Fridays with families enjoying the cool waters fully dressed while are others will be picnicking or playing cricket. Although the sun is normally too hot, thus making it hard to stay for long, the atmosphere is beautiful and authentic.
Unwind at Shangri La Barr Al Jissah
The resort is a perfectly manicured wonderland that will definitely help you relax and enjoy the best moments of the day. Beyond the palm trees lining up the grass are some whitewashed buildings wedged between rough ochre mountains and emerald sea. There are several restaurants and bars a lazy river and huge swimming pools in Al Bandar (one of the three properties). There are two other properties in the resort namely Al Waha or the Oasis and Al Husn or the castle.
Go dolphin watching or diving
Oman has a unique marine life owing to her unspoiled waters. Hundreds of diving enthusiasts normally find their way here including Prince Charles. Oman waters are rich with whale sharks, reef, turtles, barracudas and sunfish. You can also watch dolphins playing in the surf or opt to get close and personal with local flippers. Muscat car rentals can be a great way of travelling if you want to see the friendly creatures and admire the natural habitat in the area.
Take a quick drink at the beautiful Chedi
The chedi is also a must visit while in Muscat. This luxurious hotel has a killer attention to details and its all-white Moorish architecture makes it one of the best places to enjoy a bite and wash down with a drink. You can enjoy some of the most mouth-watering odyssey ranging from Patisserie to Sushi. The atmosphere is just magical with crystal chandeliers hanging beautifully over food stations. You can also enjoy a drink on the patio if your budget is limited.
Go for shopping at the mall
Muscat City Centre Mall is a perfect place for a more fashionable shopping experience. The mall is spacious and offers a great assortment of western products such as banana republic, Gap and Zara and Forever 21 as well. You can also purchase Amouage, which is one of Oman's favorite and most expensive perfumes.
Spoil yourself with gourmet food
Take a boat to Muscat's finest restaurants, the La Sultanah for dinner. Strategically set in an elegant ocean liner style, the restaurant has amazing views of the bay below and décor inspired by the 30s. it has an elegant and plush feel. You can enjoy both local and international delicacies reminding you of cities such as Tokyo, Sydney and New Orleans. Enjoy seafood as you are served by friendly staff wearing a banana smile.
     10.Mingle with the locals and celebrate
If you happen to be in Oman of 18th of November, then you should catch the local feeling as you celebrate the National Day with the locals. There are various events lined up to mark the celebrations including traditional dancing, camel racing and light shows.
There are other things to do on top of these 10 and planning your trip will definitely help you get the most out of your visit. Muscat is a great destination especially if you have reliable means of transport and you can opt for cheap Muscat car rentals for convenience and unlimited travel experience. You can search for the best rates through sites such as Travelauto.com and make your booking with ease.